Brad Posted on November 01 2023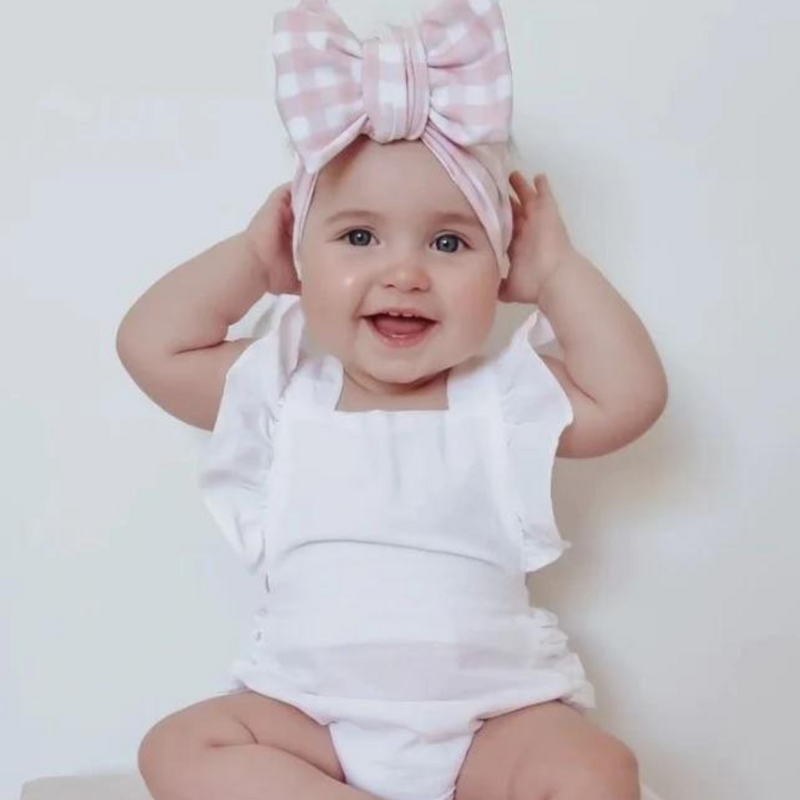 All babies are unique. There isn't always a foolproof way to determine what clothes will fit a baby based on size, age or height.
Newborns are constantly growing. In fact, their growth rate averages one-and-a-half to nearly three cm every month. In half a year, babies can gain 100 grams of weight to as much as 250 grams per week. The variance of when this happens is unpredictable – and many parents make the mistake of thinking that their babies will adhere to a timeline, buying baby clothes based purely on age.
Babies and their whimsical growth, however, doesn't mean that determining their size is impossible. For that, we have My Little Wardrobe's expert insight into shopping for baby clothes and how to use both their size and age to choose what fits best.
How to Buy Baby Clothes Online
When it comes to sizing for baby clothes, they're usually based on averages. These averages are calculated using an infant's:
However, an average does not guarantee that all babies will fit into clothes their age or size. Because there are no hard and fast rules concerning this, it's up to us to provide you with a clear outline of what to expect when shopping for baby girl or baby boy clothes online.
My Little Wardrobe's Baby Clothes Size Chart
** PLEASE NOTE SOME OF OUR ITEMS MAY BE ON THE SMALLER SIDE. IF IN BETWEEN SIZES WE DEFINATELY RECOMMEND SIZING UP **
Pro tip: find out which country your baby clothes are being manufactured in. Different countries have different averages for their babies, as well as different regulations for quality control. Make sure you're purchasing from a reputable company with standardised sizings available, like ours, when buying baby clothes.
How Do Baby Clothes Sizes Work?
The first step to understanding baby clothes sizing is to read the labels. The labels will give you a rough idea of your baby's growth and size relative to the average.
If an article of baby clothing has a label saying it's suited for infants zero to three months old, then it's referring to most newborns that will be a size 0000. After about six weeks, they will progress to size 000.
It's, so far, impossible to predict how much a baby will weigh before they're born – which makes shopping for them a bit complicated. You will find it much easier to buy baby clothes when your baby is already born. 
After six weeks, you can consult the sizing chart above to ascertain your baby's growth and how best to shop for their development. A good rule of thumb is to look at the age range for each item of clothing and consider it as an 'up to' label. If it says three to six months, then take it, generally, as suitable for babies up to six months old.
When it comes to brands, sizing will naturally vary. Some brands will run smaller, while others will be the opposite. Ask friends and family about their preferences and read reviews online to get a better idea of what will work for you and your baby.
Baby Clothes Sizes by Weight
Below is the sizing for baby clothes alongside their average weight and height. This should give you a rough idea of the sizes of baby clothing relative to weight and length and where your little one will land on the scale.
It's important to note that sizes can vary depending on style and fabric, the below can be helpful guide to point you in the right direction. 
Early baby:
Weight: 3.4kg

Length: 50cm
Newborn:
Weight: 4.5kg

Length: 56cm
0-3 months:
Weight: 6.5kg

Length: 62cm
3-6 months:
6-9 months:
9-12 months:
Weight: 10kg

Length: 80cm
12-18 months:
Weight: 11kg

Length: 86cm
18-24 months:
Weight: 13kg

Length: 92cm
How to Buy Your Baby's Clothes According to Height & Weight
Weight matters most when shopping for baby clothes, with their length being a close second. Always let your newborn's height and weight be the guiding factors for how and why you purchase clothing for them.
If you'd like to get extra wear out of your purchases, then buy a size up. For instance, many six-month-old babies can also wear clothes in the 9-12 month bracket.
Our size guide is a clear way for you to approach shopping for baby clothes. If you're unsure of anything, then reach out to a helpful team member for more help.
Pro tip: keep the tags on. If you don't know what will fit your newborn, buy multiple sizes of baby clothes for your little one, and then exchange the sizes that don't work for ones that do.
As with all things in life, experience counts. The more experience you have with shopping for a baby, the easier it'll be.
Consider the Fabric
Depending on what fabric your baby's clothes are made from, whether it's something cotton or handmade, sizing may change. Many fabrics tend to shrink in the laundry. We've all experienced something new shrinking in size when we've popped it in the wash a few times (especially if we don't follow the care instructions) – baby clothes are just the same.
We also tend to wash baby clothes more with spit-ups and spills happening throughout the day, so wear and tear is natural down the line. 
However, good quality baby clothes are designed to withstand this longer than others, making an investment in larger sizes the better option.
If you have any questions about where to start with shopping for baby clothes, contact us today. We're happy to help you pick the cutest and comfiest pieces for your little one.