Brad Posted on May 25 2023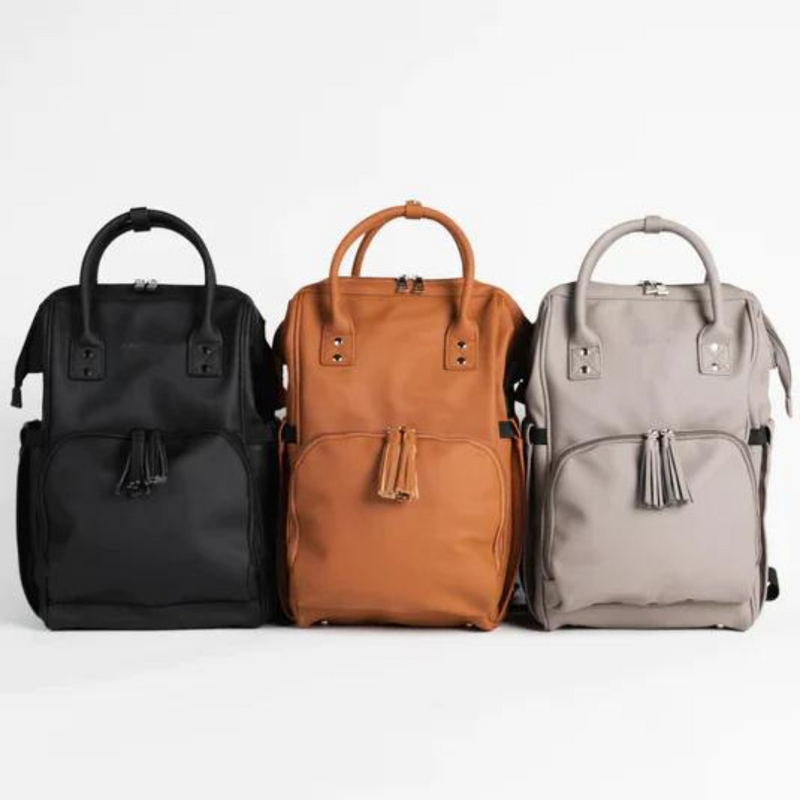 As the go-to bag for carrying all your little one's essentials, a nappy bag is a must-have for any parent. From diapers and wipes to bottles and extra clothes, they make life a whole lot easier. But with so many different types and styles of nappy bags available, it can be hard to know how to choose the right one for you and your baby.
In this blog, we'll explore the top things to look for in a nappy bag, so you can find the bag that meets your unique needs. Whether you're a first-time parent or a seasoned pro, this guide will help you navigate the world of nappy bags and backpacks and how to choose one.
1. Size and Storage Space
When it comes to nappy bags, size matters. You want a bag that's big enough to hold all the essentials you'll need when out and about, but not so big that it becomes a bother to carry around. Here are some tips for choosing the right size nappy bag:
Estimate Your Storage Needs
Before you start shopping for a nappy bag, think about the items you'll want to bring with you on a typical outing with your baby. If you have more than one child, or you'll be out for an extended period of time, you may need a larger bag.
Maximise Storage Space
Look for nappy bags that can maximise space. Features like multiple compartments can help you keep everything in its place – making it easy to find what you need, when you need it. Look for bags that have a variety of sizes of pockets to accommodate different items, and that are easy to access without having to rummage through the entire bag.
Choose the Right Size For You
If you'll be carrying your nappy bag for long periods of time, or you have back or shoulder issues, you may want to choose a smaller bag or a backpack that's easier to carry. On the other hand, if you'll be travelling or carrying items for multiple children, a larger bag may be better.
2. Style and Design
Style and design are just as important as functionality with regard to nappy bags. From nappy tote bags to backpacks, duffels, and pram caddies, we have designs to suit all sorts of style preferences and requirements at My Little Wardrobe!
3. Comfort and Easy Use
A comfortable nappy bag can make all the difference, especially if you'll be carrying it for long periods of time. Look for bags with padded straps or handles, and consider the weight and distribution of the bag. Ergonomic designs can also be helpful in reducing strain on your back or shoulders. Additionally, bags with easy-to-access pockets and compartments, and features like pram clips or versatile straps are great for added convenience.
4. Durability and Quality
A durable and high-quality nappy bag can last you through multiple children and years of use. Look for bags made from durable materials that are easy to clean, such as vegan leather or nylon and polyester. Avoid bags with flimsy zippers or weak stitching that may break over time.
5. Extra Features and Accessories
Many nappy bags come with extra features and accessories that can make your life easier. Consider insulated bottle pockets, changing mats, or wipe dispensers. However, be careful not to choose a bag with too many extra features that you won't actually use, as this can add unnecessary weight and complexity to the bag.
6. Price and Budget
While it's crucial to find a nappy bag that meets your needs and preferences, it's also important to consider your budget. Nappy bags can range in price from under $50 to over $500, depending on the style, brand, and features. Setting a budget before you start shopping helps narrow your search.
Consider buying a high-quality bag that may cost more upfront, but will last longer and save you money in the long run. My Little Wardrobe caters to parents of every budget, making life simpler and more organised with style. Our nappy bags range from around $80 to over $200, depending on size and style. We regularly have sales, and our products are made from high-quality materials.
At My Little Wardrobe, our collection of nappy bags includes a range of styles, from duffels to backpacks and totes. Choose the one that best suits your needs, and go from point A to Z organised and in style. Shop online today, and
contact us
for further information!