Brad Posted on May 06 2022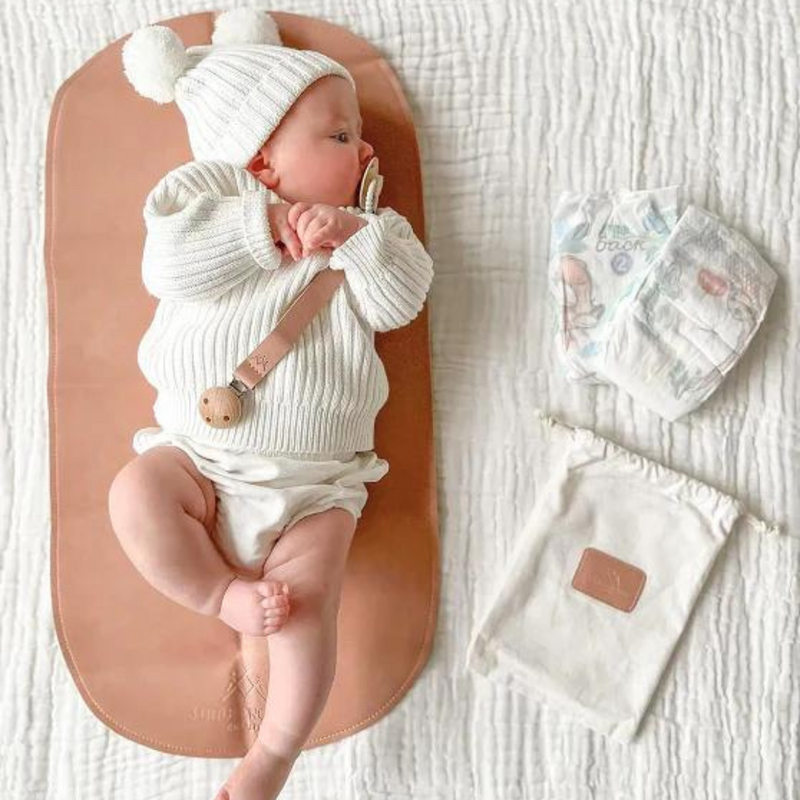 It's often said you can never prepare enough for the arrival of a new baby. Whether you're a first-time parent or an experienced one, this time is overwhelming for everyone. Having a new baby is the happiest time of your life, but also the most exhausting. Particularly when you've just brought the baby home from the hospital, things can seem daunting. If you have any disorganisation in your house, you will probably want to address that before the birth, as it will help you manage your lives better as new parents. Apart from your pregnancy and birth checklist, here are some essentials for when you are ready to bring your baby home. You can find everything your baby needs, and many of our products can be repurposed as your babies turn into toddlers. We at My Little Wardrobe have compiled a list of what we think are less thought about essentials for mums and dads to be! 
The Nursery
We will assume you have already thought of the basics such as a pram and a crib and you are ahead of the game with nappies and so on. But there might be a few things you haven't yet considered.
When considering bedding, of course you will need to have a sheet to fit your crib, but had you considered whether a mattress protector would be a good investment? Designed to protect your mattress from spills and accidents, it is a perfect way to keep the mattress in pristine condition. Spit up, vomit and poo are some pretty standard parts of every new parent's life. The washing tends to pile up in these times. Baby clothes and bed sheets are plenty to clean, you don't want to add your baby's mattress to the list. Waterproof mattress protectors are what experienced parents swear by!
Parents have different views on dummies, but they can be a handy item to soothe a fussy or grumpy bub. We also stock dummy chains, which can be a more manageable pacifying device for tiny little hands. A teething ring is also an important bit to help your baby through that often painful transition.
One of the most wonderful aspects of expecting a baby is decorating the baby's room. It's lovely to look at but also provides the first "world" your bub will know. This is the first place they will explore and play in. We have a wide range of decorations at My Little Wardrobe, but we recommend a mobile as a must-have. Providing stimulation for your newborn as they lie in their cot, mobiles can also be aesthetically pleasing.
At the dinner table
If you are breastfeeding your baby, you will need a burp cloth, and we have a range of attractive designs. These can also be used when your baby is a bit older as an alternative to wipes.
If you have ever fed a baby with baby formula or solid food, you will know how important it is to have a set of bibs. Food does and will go everywhere. There is a wide range of bibs available now from the traditional style to ones with built-in pockets to catch escaping food and liquids. Some are waterproof, others are washable, and one size will fit all! 
Likewise, a suitable set of plates, bowls and spoons is vital. Sometimes, the baby's dinner (and bowl) will end up on the floor, so it needs to be made of strong material. Plastic is not the only choice these days – we stock durable and eco-friendly bamboo, which is BPA and toxin free. In addition, you might want to invest in some snack cups, so you can easily transport snacks (for you most likely!) when out and about. 
Come Visit Us 
At My Little Wardrobe, we have everything you need for your new baby and growing toddler. With a wide range of clothing for children of all ages, bedding, feeding equipment and decoration ideas, our handpicked collection will delight any new parent. We take pride in choosing the very best quality items which are beautiful yet practical. We also offer a customisation service for some of our products plus fab products for Mum and Dad. We'd love you to visit us today or browse our store online!