Brad Posted on April 11 2022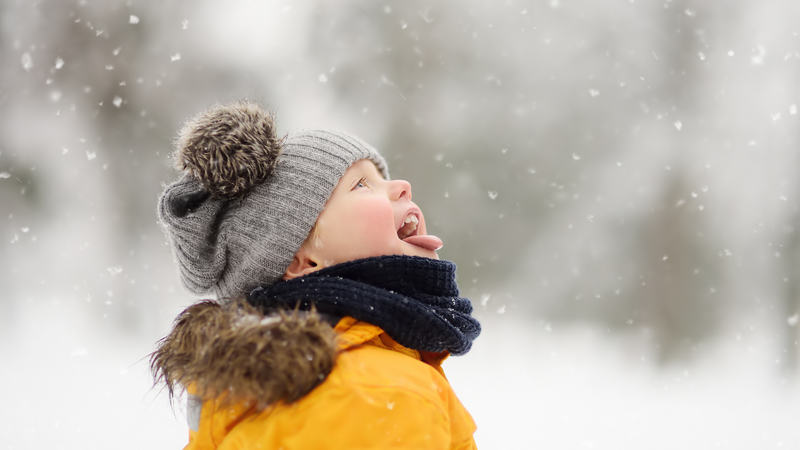 As the long summer days turn cooler and the colder seasons approach, it's important that your little ones are as snug as can be. Your little one's wardrobes also change with the change in seasons, becoming more warm and comfy in the colder seasons. The key to autumn and winter dressing in layers. Put on clothes that are soft and warm, so you can peel off the outer layers if the weather is mild. While darker colours might lend themselves more naturally to the colder weather, your mini-me can make a statement in bold shades too! Read up more on how to dress your baby in the colder months. 
Cosy layers for cooler days
The colder days should be made up of layers. Your baby needs soft and comfy clothes on the inside, and warm and snug on the outside. Baby rompers are ideal as an inner layer. Rompers are fuss-free clothes that are easy to put on and take off, making them great for last-minute changes in the weather or quick nappy changes. My Little Wardrobe makes adorable baby rompers that are comfy and look adorable. 
And when you want to shake up the romper look, we have excellent sets. For the special little girl in your life, we have a great range of winter tights to wear under warm winter dresses, and a range of jeans and trousers. We also have a selection of cool leggings for casual home wear. For the boys, we have different styles of jeans and dungarees and a range of track pants for an athleisure look.
With the inner layers sorted, you can bundle up with outer layers. The outer layers must be warm and comfortable. If it's cold outside, you can add outer layers like jumpers and coats to keep the young one warm. We all love a warm winter coat or jacket on wet and windy days, and your kiddies are no exception. Plus, they look absolutely adorable wrapped up in mini Puffer coats in beautiful bright colours. At My Little Wardrobe, we also stock a full range of hoodies, sweaters, and sweatshirts to keep your little one toasty throughout the autumn and winter. We know how special your little one is and we stock only the highest quality clothes – stylish, well-made garments for cool kids.
Baby steps into winter
When you are dressing your baby, make sure their extremities are covered and warm. This means that shoes and gloves are your best friends. It's vital to have good shoes for the winter, as your baby's feet can get cold easily. No one wants to have a crabby baby because their feet are feeling cold or wet. Luckily, at My Little Wardrobe, we have a range of fantastic autumn and winter shoes and boots. Your baby can be out and about in the winter without feeling uncomfortable or chilly. The colder seasons are a style fest for adults, and the same goes for tiny tots. Choose from adorable fluffy snow boots or cute animal print mini Uggs for cosy toes on winter days. For an urban look, we stock a range of urban worker boots for budding little lumberjacks and a wide range of Mini Docs for the time when your little rebel wants a statement look.
Accessorise the look
Autumn and winter are fabulous seasons for accessories, from gloves to scarves and beanies. Your little one will thank you for these warm accessories. They'll be feeling comfortable all day, and look absolutely adorable as they go around. And, baby accessories will give you the cutest pictures! 
You can prepare for the winter with the proper gear for colder weather. We stock both knitted and cotton beanies in a range of styles and patterns. Knitted beanies are super warm for little heads and look stylish with or without a pom-pom. Other parents (and kids) love our super soft seamless cotton beanies. They can be folded to fit the head more snugly or worn looser for a more relaxed look. We also offer a range of bandanas and a delightful selection of baby turbans – ideal for little stars at the beach. And mum and dad can glam up together with our matching beanies.
We offer a personalisation service for many of our items, meaning you can have a name or initials embroidered on them. Can you think of anything cuter? 
We take enormous pride in the handpicked items we showcase in our online store. We choose only the best quality, stylish items we love. The colder season presents opportunities for fantastic baby fashion, and we love it! We'd love you to view our full selection of autumn and winter clothes and accessories for babies, toddlers, and young kids. We are sure you will love them as much as we do!