Brad Posted on April 27 2023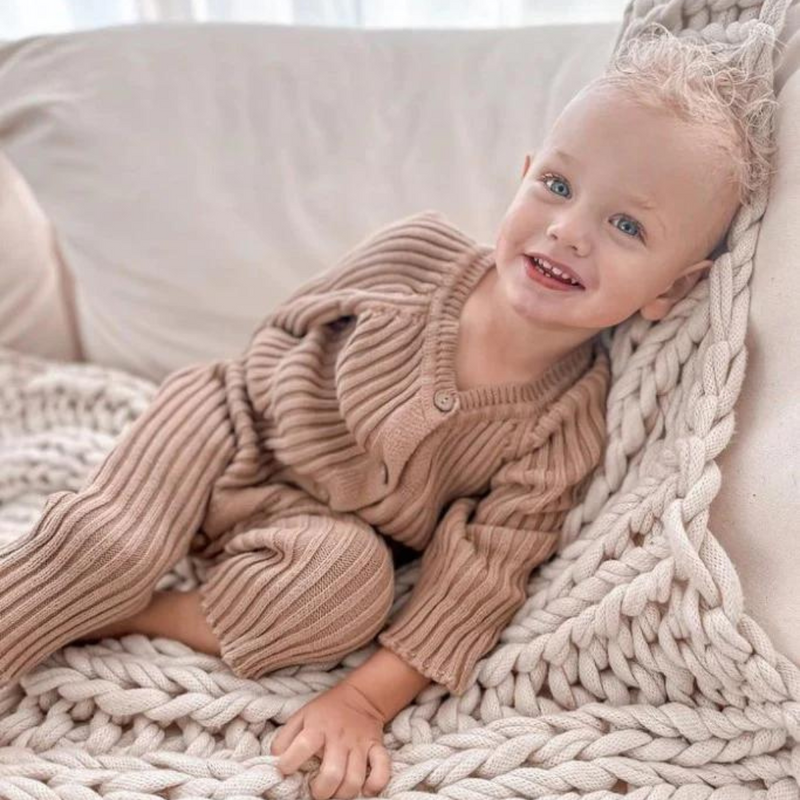 Dressing up our little ones in all sorts of fun outfits is one of the many highlights of being a parent. You can curate their wardrobe into one that's just as cute as they are, and spend time dressing them in pieces they look and feel their best in. And one of the best (and easiest) pieces that you can clothe your bub in is unisex baby sets! Perfect for both your baby boys and girls, unisex baby sets deliver universal comfort and cuteness.
At My Little Wardrobe, we offer a wide collection of unisex newborn clothing that will have your little one looking oh-so-cute. If you're looking for ideas on how to dress him or her, we're here to help. Here are four of our favourite gender-neutral newborn clothes and sets!
Summer Sets
Nothing says summer better than an adorable shorts and tee set! Perfect for those hot days out in the park, these sweet loose-fitting pieces are crafted from high-quality fabrics that keep your youngster feeling comfy all day long. At My Little Wardrobe, we have a fantastic collection of gender-neutral newborn clothing that will keep your baby looking stylish and feeling comfortable all summer long.
One of our favourite pieces for summer is the adorable shorts and tees set. These loose-fitting sets are crafted from high-quality fabrics that will keep your baby feeling cool and comfortable on even the hottest days. Plus, they're incredibly versatile and can be mixed and matched with other pieces in your baby's wardrobe. Our Back to Nature Set is made from a cotton blend which is perfect for keeping your baby cool on those hot days.
Our summer sets come in a range of styles and colours, from playful patterns to solid pastels. And because they're unisex, you can easily pass them down to siblings or friends' babies, making them a smart investment for any parent.
Animal Onesies
Foster your little one's creative mind and dress them up as their favourite creature! At My Little Wardrobe, we absolutely love gender-neutral animal onesies. Not only will your baby boy or girl look absolutely adorable, but they'll feel at ease and more comfortable than ever.
Our animal rompers and onesies are a sure way to bring out their wild side and make the cutest baby pictures you've ever seen. Dress your bub in our bear knit onesie and let their fierce personality shine through! Made from a soft, knitted material, this garment is perfect for snuggling up in the colder months.
Alternatively, you can adorn your baby in a bear (or other animal) print instead! With pieces like our Brown Bear Romper, your little one will look as cute and cuddly as their favourite creature in a different but equally as fun way to our bear onesies.
Simple Basics
Sometimes, simplicity is key. Life gets busy enough, so why not make dressing your little one easier? Stripping it back to basics and focussing on practicality can be a refreshing change, which is why we love our plain, solid-colour sets so much.
A classic piece like this is a timeless wardrobe staple that will never go out of style. We love how versatile they are and that you can easily mix and match them with other pieces in your baby's wardrobe. Whether it be a t-shirt and tracksuit pants set or a solid jumpsuit, you simply can't go wrong with basics.
One of the best things about our simple basics is their versatility. You can mix and match them with other pieces in your baby's wardrobe to create endless outfit options. Plus, they're perfect for any occasion, from a casual day out to a more formal event. With our range of simple, solid-coloured sets, you can dress your little one in style without the fuss.
Rompers
Rompers might just be our favourite unisex children's clothes yet – they're a set all-in-one! Gender-neutral onesies make dressing your little one a breeze, and can even be shared between brother and sister. What's not to love?
At My Little Wardrobe, we have your unisex baby clothes sorted. Whether it be a onesie or tracksuit, we've got the perfect pieces for keeping your little one looking smart and feeling comfy. Now that you know which pieces to dress your bub in, it's time to get shopping! Browse the collection of baby-neutral clothing online today, or visit us in-store.