Brad Posted on April 21 2022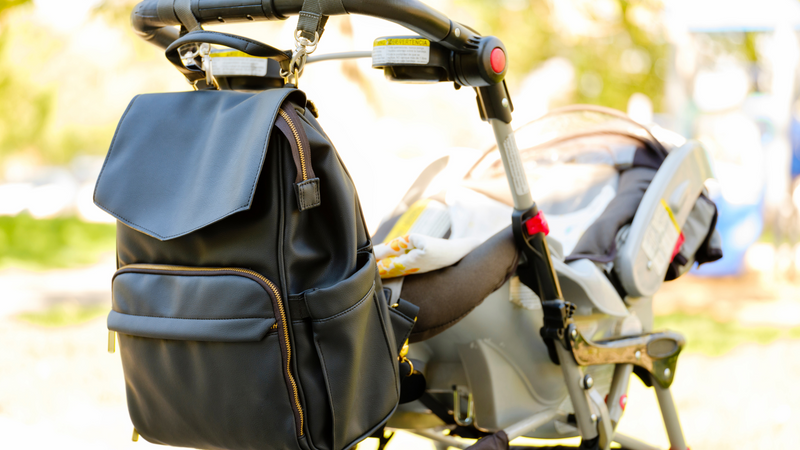 When you leave the house with your tot, it can feel like you are planning a major military operation. Preparing a nappy bag is the most crucial part when you leave the house with a baby or a toddler. Whether you're just going out for some fresh air, or taking a short trip outside the house, the nappy bag will be your saviour. It can feel like a huge challenge to plan and think of everything you could possibly need. There just seems to be so much stuff that you need to take in case of any eventuality. Planning ahead of time can save you a lot of headache. If you want to avoid looking like a bag lady or man when you're out and about with your baby, read our top tips on how to organise your nappy bag so that it can be your best friend.
Invest in

a good nappy bag
An invention that has saved the sanity of many a parent over the years, the nappy bag is a must-have for any mum or dad. A well-organised bag is a lifesaver when a poo-tastrophe strikes. Preparing and packing your nappy bag ahead of time will help relieve some of the stress that comes with attempting to recall things right before you leave the house. A sturdy and durable nappy bag will last you a long time. When picking up a nappy bag, make sure it has lots of pockets and zips to store everything in the right place. 
Invest in a Pram clip
Instead of popping your nappy bag in the storage space under the pram or pushchair, consider using a pram clip to attach the nappy bag to the handlebar. Gone are the days of rummaging around to find something in a hurry. You can just clip and go! And you don't ever have to worry about forgetting your nappy bag somewhere since it will always be attached to the pram.
Get a dummy case
A dummy is called a pacifier for a reason, and when a tantrum strikes it can be a handy tool to soothe frayed tempers (the baby, not the parent). If you need to find the dummy in a hurry, a dummy case can solve the issue. Easy to find and keeping the dummy clean before use, it's a handy little necessity for any parent. Make sure your nappy bag has a designated pocket for your dummy case so that you can find it at the same place every time.
Consider a pram caddy
A pram caddy could be a more versatile and useful alternative to a traditional over the shoulder bag. With everything within hand's reach, and able to be attached to the handlebars, this design can revolutionise trips out with the bub in tow. Keep your phone, keys and wallet all in one place. They can double up as day bags and help you get organised. 
Think insulated pockets
If you are bringing snacks or drinks and you want to keep them at the right temperature, check that your nappy bag has insulated pockets. It's easy to find the items you need, and the pockets will keep the items cool or warm as needed. When you do this, it can also be a good way to separate the food items from other things like nappies and clothes.
Bring a swaddle
A swaddle can be a very useful thing to have in a nappy bag. Handy to use as a changing mat, shade or blanket for the baby and coverage while feeding, it will also roll up to take up only a small space in your nappy bag.
Get organised with organisers
Some very organised parents carry plastic bags or zip-lock envelopes with them in their nappy bags. Useful to keep clean and dirty items separate and contained, they also make it easier to locate smaller items that may get lost in the chaos of the bag.
Think beyond tradition
The over-the-shoulder bag has been a staple for many, but these days so many other designs exist. You can get backpack styles, caddies and even nappy bags that roll out into a changing mat. Over the shoulder bags can be annoying. They can easily slip off the shoulder and aren't great for your posture. When you think beyond the traditional one-shoulder nappy bag, you can find a style that adapts to your needs!
Safety in numbers
Always take more than one change of clothes for both the baby, and even an extra change for yourself as well. Accidents can happen anytime, and you don't want to spend a day out covered in spit up. Keep the clothes in a plastic bag so you can do the change quickly and efficiently and get the dirty clothes stored away in a jiffy. 
Clean up

and first-aid kit
It's a no-brainer that you will need copious amounts of cleaning supplies. Babies and toddlers love exploring, and your nappy bag should have enough supplies to keep them safe. Anti-bac gel, wet wipes, bottled water, and a small first aid kit are essential items in any parent's nappy bag. Trust us on this! And don't forget to keep all prescription medication as well.
Once you have your system in place, you can get into the habit of restocking your nappy bag whenever you step out. Make sure you have a checklist on your phone and on the fridge for easy reference. A little preparation can save you a lot of hassle when your baby leaves the house. Share your tips with us in the comments!